After Utah, a quick trip back east to catch up with the relatives. First stop in Maine, while waiting for our luggage to catch up, was L.L. Bean. We did our best to support the local economy. Actually, the guys did more hanging around while the ladies got down to business. Here Zane and cousin Evan spend some quality time at the big boot.
Like our visit here in 2005, we spent a great deal of time on or in the water at Androscoggin Lake. Since our last visit there seems to have been an invasion of freshwater crocodiles. Zane appears to have control of this one.
It was great paddling among the local wildlife. We saw, among other things, Osprey, Bald Eagles, Otters, and Loons. As always, it was incredible to here the Loons calling across the lake as the evening slips into night.
A quick jaunt to the coast to pick up some seafood. Although perhaps overrun with tourists (such as ourselves) they still go out of Boothbay Harbor and haul in the lobsters we so dearly love.
Of course we were obligated to try and help control the lobster population. It's a tough job but somebody has got to do it! Thanks as usual to the Kempton clan for hosting us and spoiling us rotten.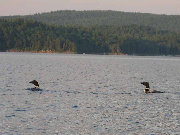 The paddling was as good as ever. As usual, Zane prefers his own kayak - no reason to have some pesky parent in the back slowing you down!
Zane perfects his stealth floating technique. The heron did not seem to be too bothered.
We left Maine and drove to New York to complete the family visits. We were fortunate along the way to see this moose casually browsing near the highway in New Hampshire, creating a bit of a traffic jam.