Glenn's Mom's family is from Maine. Every other year Glenn's family gets together for a week in Maine. We stay on a lake, visit with relatives, eat Lobsters, visit the seashore. As you can see, this year's trip was a great success.
Click on any photo to see an enlarged image.
Our first stop was Cape Elizabeth, where we ate lunch (lobsters and clams of course, hot dogs for the non-believers) and visited the shore. We watched as the lobstermen checked their traps, then we scavenged some nice shells. A bit chilly for a swim, though.
Just as when Glenn was Zane's age, we visited the Monmouth fair and watched the horse and oxen pulling. The animals are still huge, handsome and strong. This well-trained pair is pulling a load of almost 10,000 lbs – check out that stack of cement blocks on the sled!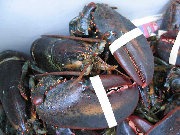 At every opportunity we did our best to reduce the local lobster population. This fella is about to go for his last swim – in the cooking pot.
Our relatives kindly hosted a great lobster feast for us. Between bites we visited and reminisced about the many such gatherings we had shared over the last 40 years or more. Special thanks to Jackie, Carlo, and chef Craig!
During our week at Androscoggin Lake we relaxed, swam, and watched the wildlife - including bald eagles, osprey, loons, and moose.
When we weren't relaxing we spent a good deal of time paddling around and exploring the lake and its islands. Zane now prefers to paddle his own boat.
Here Zane gets a lesson from Aunt Ruth and Uncle Buster on the fine art of lobster deconstruction. This amazing couple recently celebrated their 64th wedding anniversary!
The scenery was wonderful and the setting peaceful. After the sun set and another day came to an end, the call of the loons would float out over the lake and send us off to sleep.