New Zealand January 2007 Part 1
First stop, Auckland. We visited the MOTAT (Museum of Transport and Technology) museum, which we found to be impressive. Great collections of steam engines, aircraft, and Railcars in various stages of restoration. We were amazed by the railcar colelction. Here Tana is sitting in a restored "Watch Car" which is the equivalent of the Caboose in the USA.
Next up was the Karangahake Gorge. A beautiful spot where gold was discovered in the late 1800's. There was extensive development and a local population of several thousand. The people and most of the equipment are gone, but the rugged beauty remains.
Another feature of the Coromandel is the Pohutukawa trees that are found along the beaches and rocky points. Sometimes called the "New Zealand Chrsitmas Tree" for their production of brilliant red blossoms over the holiday season, these gnarled old trees add greatly to the scenery.
Here at Mercury Bay (Well OK not right at the spot shown) Captain Cook came ashore in 1769 to watch the planet Mercury cross the sun and establish the exact position of New Zealand. Given the views it is easy to see why he hung around for awhile.
We climbed up to the old Maori Pa (fortress) site at Hereheretaura Point near Hahei beach. The isolated point certainly provided a good vantage for the Maori warriors to watch for invading parties.
Because of the unfriendly terrain, many tunnels and bridges were required to get the railroad through for the mining operations. Now these are used for hikers like us. Here we are emerging at the mouth of a 1km tunnel, which opens directly on to a bridge. Fun walking!
The next few days were spent exploring the Coromandel Peninsula. A truly beautiful and historic part of New Zealand. Relatively few people live there year round, but in the summer the population booms by a factor of 10 or so as people flock to the beach for the summer holidays. With beaches such as this one at Orokawa Bay (voted by us as most scenic of our visit, but it's really splitting hairs at this point), it is easy to see why.
On the Coromandel there are many terrific beaches to choose from, but this one is a little different. Hot Water Beach has its own hot spring. In a certain area of the beach at low tide you can literally dig your own Hot Tub. As you might imagine this is a very popular activity and the place gets quite mobbed. We came for an evening stroll at high tide and found the place to be pleasntly deserted.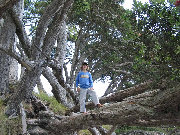 Time to explore the North Island, which we had not seen much of. Pull out your map and follow along.