Back for a working visit - time to move into the barn, not too many adventures this trip. We did get some varied weather - hot, cold, rain, thunder and lightning, a bit of hail, wind, and snow on the hills a little too close for our tastes. Here Castle Rock is trying to hide in the clouds.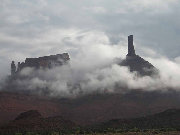 There were several birthday celebrations - Zane is now 8!
We enjoyed our campfires, and tried to load up on Smores
(which we can't get in New Zealand - no Graham Crackers).
There was time for a bit of adventuring. Glenn got out for a hike with Bill and Alan in the Klondike Bluffs are of Arches National Park. Do you see Bill standing on the rock in the center of the photo?
Ahh yes, boys and mud.
Grandpa and Grandma came to visit and hang out with us Turkeys. Here Rainbow struts his stuff for the crowd.
Zane spending some quality time with Rainbow.

We got Zane moved into his room in the barn as soon as we could. He got his office set up and went to work.