Here's some things we have seen in New Zealand since settling in.
About 40 minutes up the road to Port Underwood is Ocean Bay, which is a very nice sheltered spot with a sandy beach. When we visited the Pohutukowa trees were in full bloom and it was easy to see why they are called New Zealand's Christmas Tree. We are looking forward to going back there, with kayaks. Here Zane is trying to herd some fish, but notice the one sneaking up from behind!
We took a day trip down the coast to Kaikoura to go whale watching. We were very lucky, as the gale force winds did not arrive until our tour was over. The cetaceans also cooperated, as we saw two Sperm Whales, Dusky Dolphins, and the endemic and rare Hector's Dolphins. Since they always seem to be having so much fun we agreed in a future life we would like to come back as dolphins.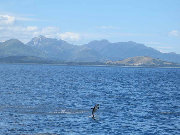 New Zealand Traffic Jam!
The 13th annual "Blues, Brews, and BBQs" festival was held in Blenheim, with 23 breweries from all over New Zealand. These cows were very friendly.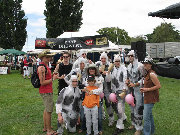 First Day of School! Zane is learning to be a good Kiwi at Tua Marina School, which was established in 1871 and has approximately 100 students in 8 grades. The tiles in the entry way say "Haere Mai" which is Maori for welcome.
Swing bridges are fun! This swing bridge is at the Pelorus Bridge Scenic Reserve, a great place for a stroll or swim. Zane and Glenn went swimming, but Tana chickened out and stayed on shore.
The Molesworth Station is the largest farm (ranch) in New Zealand, which is about 400,00 acres in size. Historically it ran sheep, but now has cattle. The high dry and remote country reminded us very much of the western USA.
Zane and Tana get in a little paddling at Punga Cove in Queen Charlotte Sound.