Looking good from the outside. We think it blends nicely with the adjoining "shack".
The living room.

Although we are still waiting for a few things (Interior Doors, a functioning hot water heater, etc)
We have declared the barn complete. Many Thanks to Mitch and his crew for the awesome job!
Click on any photo to see an enlarged image.
The kitchen. The cabinet doors are off being painted.
Looking down the stairs into the entryway.
Looking down from the loft into the dining area.
Looking out the loft into the top of the living room.
Office alcove in the loft. Still waiting for those closet doors.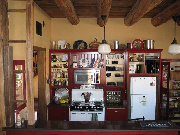 Guest bathroom. Now visitors staying in the shack won't have to pee outdoors.